Student Success Stories
Submit Your Career Success Story here
Octavio Juarez - Alumnus                                                                                                                       
Services Used: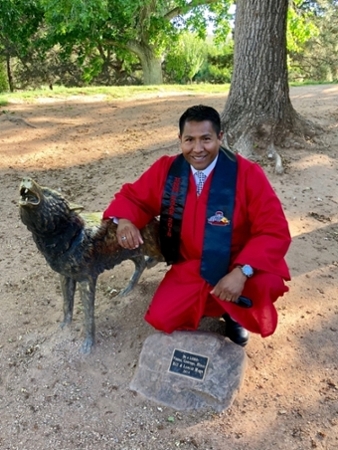 Career Services
Career Fair
Engineering Student Services
Handshake
Advisement from Engineering Faculty
Major
Mechanical Engineering
Success Story:
My success story began the first day I attended The University of New Mexico. With the help of Anna Mae Apodaca, I signed up for all my necessary classes for an engineering degree.
As I got closer to graduating, I had the fortune of being directed to the FSAE program. This program forged my mind as an engineer and as a member of a great team that builds amazing racecars, while at the same time prepared me for the real world.
As I approached my last semester at UNM, I contacted UNM Career Services to assist me with my resume, job search and mock interviews. With the help of this department I got ready for the biggest assignment/project that every student should be prepared for, which is to be ready for finding the job of their dreams.
My gratitude goes to every faculty member and representative of Career Services who helped me and prepared me to successfully obtain an engineering job. Now I am employed by an amazing company, KLA-Tencor, which I also happened to meet at the Career Fair!
Thank you UNM! I will forever be grateful and will always be around to encourage other students to ask, seek and knock.
---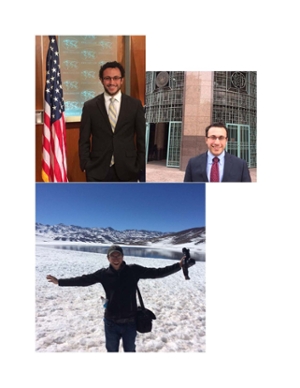 Gabriel Gallegos - Senior
Major
Political Science and Strategic Communication
Success Story:
With the help of the UNM Diplomat in Residence and the entire Career Services team, I was honored to score an internship with the U.S. State Department. The U.S. Foreign Service Internship Program brings together emerging public servants nationwide to serve two internships one in Washington and one abroad at a U.S. Embassy abroad.
The experienced rocked my world and has set me on a path of success in both my personal and professional life.
Through my Washington internship, I worked in the Office of the Spokesperson, engaging Beltway reporters on the Secretary's foreign policy goals. I pitched stories ranging from the U.S. foreign development budget to efforts to combat global human trafficking. I made some of the best friends I have ever made that summer, and am excited to see where we all land in the future.
That same summer, we were told to make a list of 5 Embassies we would be interested in working at. I essentially threw a dart at a world map and landed on Chile because of its shared values with the U.S. of free trade and good governance.
So there I was on my first international flight to a city nestled in the shadow of the Andes Santiago, Chile. Through serving in the Public Affairs section in Embassy Santiago, I worked alongside proven diplomats and local staff to lead digital outreach campaigns, monitor Chilean press for senior leaders, and even helped draft a speech for the U.S. Ambassador. It taught me so much about high-impact, cross-cultural strategic communications campaigns.
I also got to travel around quite a bit to Buenos Aires, Northern Chile, and the beautiful coastal town of Valpraiso. It taught me that adventure lies around every corner you just have to be brave enough to seek it out.
Overall, I am indebted to the DIR and the Career Services team for counseling me through this incredible opportunity. Who knew that a small-town kid from Southern New Mexico would ever have a chance to do something like work in our nation's capital and a foreign mission abroad?
---
Noah Michesohn - Senior
Major
Strategic Communication
Noah's Success Story:
When I was a Sophomore at UNM I took Astronomy 101 as a core science class for my major. While I was in that class I fell in love with space and the mystery of the unknown. Feeling inspired, I looked for jobs at NASA and found a Co-Op at NASA Johnson Space Center.
This was a big step, but I had felt that with my ASUNM experience and my Greek Life experience, I may have a shot. I spent two weeks practicing my interviewing skills with my ASUNM colleagues as well as the Career Services office at UNM.
A few weeks after the interview, I got the call, I had my internship at NASA. In fall 2016, when all of my friends were headed back to UNM, I got in my car and drove to Houston to intern at NASA JSC. While there, I was in the Public Affairs Office, working on media relations for the International Space Station. I learned a lot and at the end of the semester was awarded an "outstanding intern" award at JSC.
I came back to school and was a much more effective student because of the real-world skills I had developed. During this time, I became the President of the Alpha Tau Omega Fraternity as well as the Director of Communications for ASUNM. But my next steps after the semester were to get back to NASA as soon as possible.
I spent Summer 2017 back at JSC, this time interning in the Client Relations and Communications department working with the Celebrity Engagement Manager. Through this, I worked to coordinate a series of collaborations with country artists that were used on social media and Country Music Television. This helped reach a unique audience with information about NASA that otherwise would not have got there. I was also able to do other amazing tours such as Garth Brooks and Bryson Tiller. This ended on a very positive note when I was awarded for the second time an "outstanding intern" award for the summer.
At the end of the semester, I put in my application to NASA for a full-time position and blasted back off to UNM for my senior year. After the first week of school, I got a call from my program manager offering me a full-time job in the External Relations department when I graduate in May 2018.
I think the space program is an example of the best of humankind and I can't wait to be part of the NASA mission.
The door to NASA was completely opened to me by having the confidence to apply for an internship. I was able to take the hard skills that I learned in the classroom setting and see how they work in the real world. A big learning curve was just being in that professional environment, working with professionals, and being in the zone from 8 a.m. to 5 p.m. every day. I also was able to meet countless mentors in my field that continue to advise me today.
---
Stacy Caldwell's Success Story
Jesus Rodriguez's Success Story
Madison Rightley's Success Story
Stephanie Rocha's Success Story